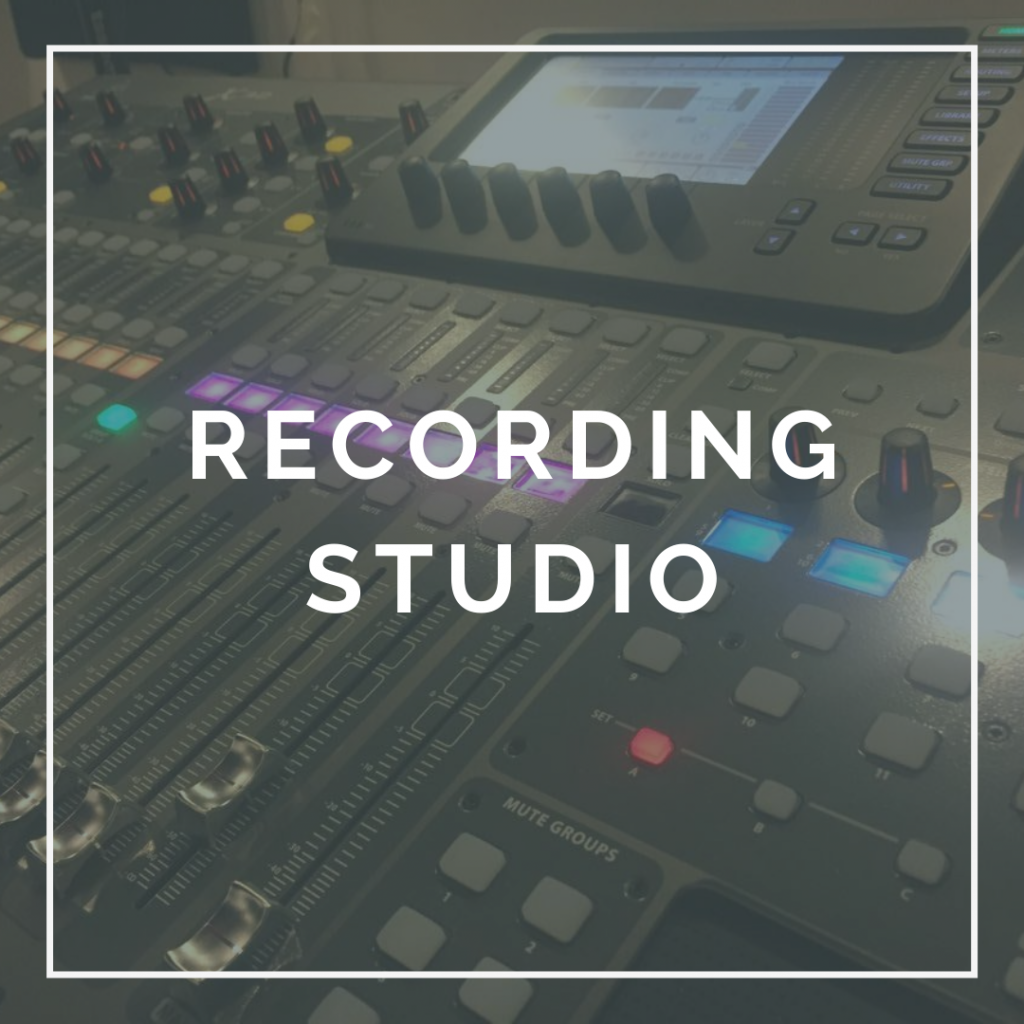 Our purpose built recording studio contains everything you need to bring your music to life. Whether you are recording your first ever EP or vocal showcase demo, or are looking to take the next step with an album, our engineers and team are on hand to see you through the journey from start to finish.
Before you begin recording you will be invited to meet our team for a pre-production meeting and to take a look at our facilities. Our engineers will discuss what you are hoping to achieve from your project and the timescales this could involve and our in house vocal coach will also be on hand should you need to ask any questions. You will also have the opportunity to meet our Social Media, PR and web developer experts who can offer advice and support on the next steps for you and your music once you have the final product.
We are also able to offer assistance with production and have access to professional session musicians who are available for recording.
Console:
Behringer x32 Digital Desk
Microphones:
Neumann U87ai
Royer R-121
Oktava Mk-012 MSP6
Shure SM7B
Shure Beta 91a
Sennheiser MD 421-II (3)
Audio Technica – AE-2500
Audix D6
AKG D112 MKII
Shure SM57 (2)
Shure SM58 (2)
Sennheiser E845
SE z3300A
Rode M3
ISK ESM-7B
Preamps:
Tech 21 Sans Amp Bass Driver DI
Palmer Daccapo Re-amping box
Triton Audio FetHead
Monitoring:
KRK Rokit 5
Multi-track digital recording:
Apple iMac (M1)
Macbook Pro
Macbook Pro Mini

Guitar & Bass Amplifiers:
Blackstar Series One 1046l6 Head
Darkglass Microtubes 900 Bass Head
Marshall MG100 HDFX Head
Line 6 Spider III Head
Peavey TNT 115 Bass Combo
Trace Elliot 715 – 7 band EQ
Speaker cabinets:
Two custom 4×12 cabs:
Celestion V12-60 (2) V30 (1) & 70/80 (1)
Blackstar HT-Venue 4×12
Darkglass 1×10
Trace Elliot 1×15
Marshall 4×12
Line 6 4×12

Drumkits:
Sonor
Pearl
Tama – John Tempesta 14″x 7″ Snare
Software:
Logic Pro X
Antares Auto- Tune EFX+
Neural DSP – Soldano 100
East West Symphonic Orchestras
East West Symphonic Choirs
East West Stormdrum
East West Ra
Pedals:
Darkglass Electronics Alpha Omega Ultra
Darkglass Hyper Luminal Compressor
Strymon El Capistan Tape Delay
Horizon Devices Precision Drive
Mission Engineering Vm Pro 1
Boss CE2W (Waza Craft)
Xotic SP Compressor
Cry Baby 535q Wah
Digitech Drop (2)
Boss NS-2
Boss ES-8
Haedphones:
Sennheiser HD 660s
Sennheiser HD 280 pro (2)
Guitars:
Faith FV Venus Electro Acoustic
Recording Studio Hire
Includes Engineer
130 half day rate (4 hours)

250 full date rate (8 hours)
Mixing
Includes up to 2 recalls
35 per track (Vocals only - up to 5 minutes)

150 per track (Full track - up to 5 minutes)

1200 (Full tracks - up to 45 minutes)