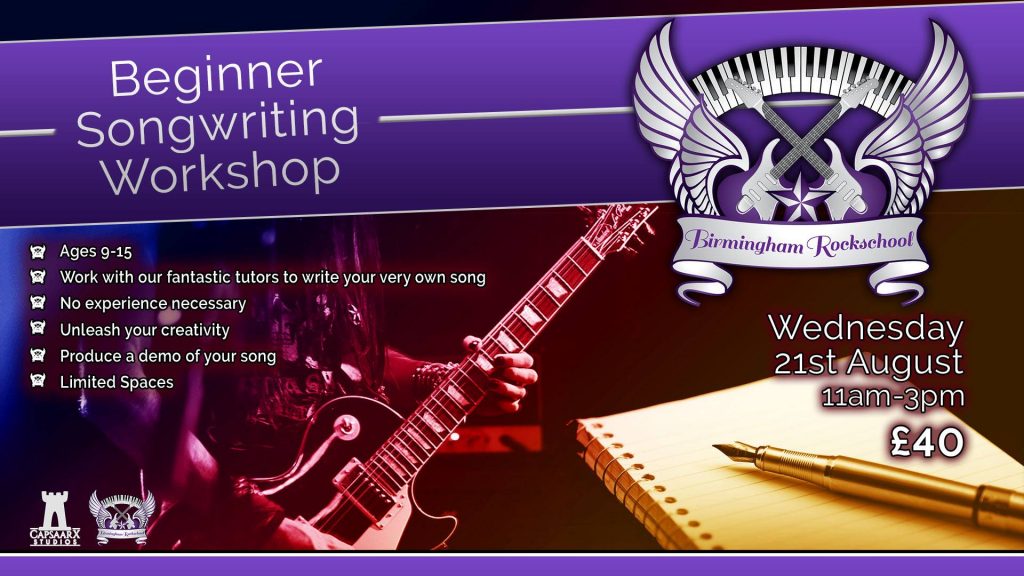 We're very excited to announce that we will be holding a summer songwriting workshop for beginner songwriters, in association with Birmingham Rockschool on Wednesday 21st August 2019.
BIRMINGHAM ROCKSCHOOL BEGINNER SONGWRITING WORKSHOP IN ASSOCIATION WITH CAPSAARX STUDIOS
Wednesday 21st Aug
11.00am to 3pm
£40
Limited places – Ages 9-15
Work with our fantastic friendly tutors to write your very own song even if you've never done it before! No experience necessary – you don't even need to play an instrument! This is a fantastic workshop for unleashing your creativity, and you'll leave at the end of the day with a chord chart, lyric sheet and a rough demo recording of your original composition by a professional studio engineer! Spaces for this workshop are very limited so book early to avoid disappointment.
HOW TO BOOK YOUR PLACE TODAY
Fill the application by CLICKING HERE
Or contact us for more information at Info@CapsaArx.com or on 07902 341 796